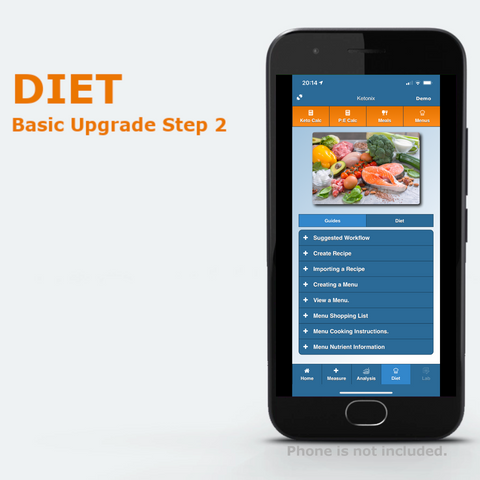 Diet Basic Upgrade Step 2
Upgrade your software with the Diet package.
Requirements: Ketonix App
Keto calculator, Meals, Menus
Software upgrades are non-refundable and non-transferable
(VAT is added for all orders within the EU)
The Diet upgrade lets you calculate your ketogenic macros. These macros can then be used when composing meals. In the app, there is the Swedish and United States food database with all nutrients listed. When composing a meal, the nutrient for each ingredient is added and you get a complete nutrient profile.

Your meals can then be saved, and you can log such a meal with one click.

As extra guidance, there is also a P:E calculator. The P:E stands for Protein to Energy ratio. If your goal is to lose weight, and your body cells adapted to using fat, weight loss might(will) stall. Remember a well-formulated ketogenic diet wasn't designed for weightloss, but rather to mimic fasting without losing weight. 

Using a P:E focused diet, the energy your body needs comes from your body and less from the fat you eat. By eating mostly protein, you get satiated and full of nutrients.
It's one way of shredding some layers off. The P:E index is also calculated when composing meals. A meal with a high P:E ratio will not have a high keto ratio, because the fat the body uses does not come from food, but from stored fat.


---
We Also Recommend